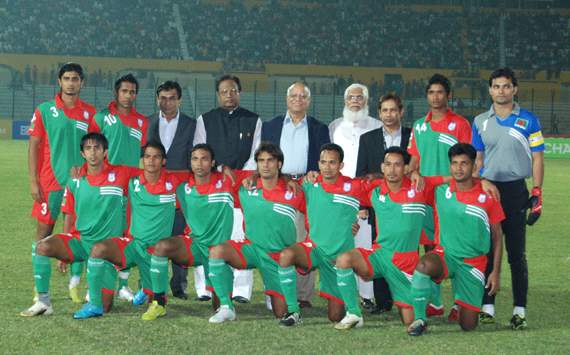 BANGLADESH

Mamun;
Karim, Ariful, Meshu, Sujan(c);
Zahid, Islam, Mamun, P Das
Mithun, Ameli


PAKISTAN

Jaffar(c);
Faisal, Manzoor, Ishaq, Qureshi;
Mullah, Ahmed, Iqbal, Ikram;
Abbas, Pathan

The
2011 SAFF Championship
kicks off in style with a Group B encounter pitting the top ranked team of the group (infact the whole competition) against the minnows
Pakistan
. Certainly a David vs Goliath battle where Bangladesh would like to make their intentions clear while Pakistan would be ever ready to spring a surprise.
The two teams had last met over two legs in the first round of the
2014 FWorld Cup Qualifier
where
Bangladesh had humbled Pakistan
at Dhaka netting 3 goals past them while conceding none, and had played out a comfortable draw at the return leg, eliminating Pakistan in the process.
Both teams have seen a change of coaches, with Bangladesh replacing the short lasting Jovanoski with Nikola Ilievski and Pakistan getting Zaviša Milosavljević on board to replace Tariq Lutfi.
Bangladesh might as well be favourites for the match with their frontman Ameli, a constant threat having already scored against Pakistan in the WCQ. Moreover, they will be striving to do their much higher ranking justice.
Pakistan, on the other hand, with their physical style of play and new tactics employed by new coach Milosavljevic, they certainly have a few tricks hidden up their sleeve. Moreover, with the coach calling on foreign based players, notably Adnan Ahmed and Atif Bashir from England and Wales, they certainly have a chance to pull off an early upset.
Available Squad For Bangladesh
Goalkeeper: Mamun Khan, Biplob Bhattyacharjee, Md. Shahidul Alam Sohel.
Defence: Nasirul Islam Nasir, Tapu Barman , Md. Sujan, Mamun Mia, Ariful Islam Arif, Rezaul Karim,
Midfield: Pranotosh Kumar Das, Abdul Baten Mazumdar Komol, Mezbaul Haque Manik, Emon Ahmed Babu, Shahedur Alam Shahed, Mamunul Islam Mamun, Shakil Ahmed, Atiqur Rahman Mishu, Alamgir Kabir Rana
Strikers- Towhidul Alam Towhid, Md. Shah Alamgir Anik, Zahid Hasan Emily, Md. Abdul Malek, Wahed Ahmed, Mithun Chowdhury.
Available Squad for Pakistan
Goalkeepers: Jaffar Khan (Captain), Muzamil Hussain, Saquib Hanif
Defenders: Samar Ishaq (Vice Captain), Kamran Khan, Muhammad Rizwan Asif, Muhammad Ahmed, Naveen Ahmed, Manzoor Ahmed, Alamgir Khan
Midfielders: Adnan Farooq Ahmed (Vice Captain), Faisal Iqbal , Ansar Abbas, Saddam Hussain, Kaleem Ullah, Muhammad Adil, Muhammad Ikram, Atif Bashir Qureshi ,
Forwards: Jadeed Khan Pathan ,Shakir Lashari, Husnain Abbas, Junaid Qadir
Bangladesh are the highest ranked team in the competition ranked 142 in the world.
Bangladesh have faced Pakistan 14 times and just have an edge winning 6 and drawing 3.
Bangladesh have won the SAFF Championship once before in 2003.
In the last edition Bangladesh were knocked out in the S/F by eventual champions India but still scored the most goals in the tournament (11 goals).
Veteran Pakistan Player Zesh Rehman had played for top English clubs like Fulham and QPR but has not been selected in the squad.
Interestingly, Pakistan among the 8 nations, have the most number of players plying their trade overseas from Denmark to Wales to England.

Catch all the latest Live action and match highlights from SAFF Championship here
Field Report
Bangladesh
Pakistan
| | | | |
| --- | --- | --- | --- |
| SAFF Championship ‎(SAFF)‎ | 06-Dec-2009 | Bangladesh 0 - Pakistan 0 | |
Bangladesh
28-Jul-2011
Bangladesh 2 - Lebanon 0
WCQA
23-Jul-2011
Lebanon 4 - Bangladesh 0
WCQA
25-Mar-2011
Bangladesh 0 - Philippines 3
ACC
23-Mar-2011
Bangladesh 2 - Myanmar 0
ACC
21-Mar-2011
Palestine 2 - Bangladesh 0
ACC
Pakistan
25-Mar-2011
Chinese Taipei 0 - Pakistan 2
ACC
23-Mar-2011
Pakistan 1 - India 3
ACC
21-Mar-2011
Turkmenistan 3 - Pakistan 0
ACC
08-Dec-2009
Pakistan 7 - Bhutan 0
SAFF
06-Dec-2009
Bangladesh 0 - Pakistan 0
SAFF
SAFF Championship Preview: Bangladesh v Pakistan – The Green Shirts Look To Exact Revenge Against The Bengal Tigers
SAFF Championship: I Am Not An Astrologer – Bangladesh Coach Nikola Ilievski On His Team's Ambitions
SAFF Championship: We Need A Winning Start Against Pakistan – Bangladesh Coach Nikola Ilievski
SAFF Cup Draw: India Grouped With Bhutan, Afghanistan And Sri Lanka